NBG156 Weanling Boost Pellet
A complementary 16% CP nut from milky calf starter pencil
Contains cooked ingredients to aid nutrient digestion & absorption
Main ingredients are wheat, maize, barley and rapeseed meal
Main ingredients are wheat, maize, barley and rapeseed meal
High in digestible fibre
Ideal for feeding at grass
Fully balanced with minerals & vitamins
Max Feeding level – 5 kg
A successful calf rearing enterprise relies on giving calves a good start in life and with this in mind Kiernan Millings calf rations are carefully formulated using only the best raw materials on the market. Similarly, they are fortified with high levels of vitamins and minerals to ensure calves achieve good weight gain, skeletal growth and rumen development in their early stages of life.
MANAGEMENT TIPS FOR CALF REARING:
How we treat this calf, especially in its first few hours of life may have major consequences on how it thrives and performs later on in its life cycle. Various research has shown where heifer calves have grown faster before weaning, are the heifers that calve down at twenty four months and have higher milk production potential. Similarly, calves deprived of colostrum are the calves that gain less weight, are more susceptible to scours and have a higher mortality.
Use colostrum from the first milking for the first feed
Give colostrum within two hours from the calf birth
Give at least three liters of colostrum within the first feed
Feed colostrum at 15% of the calfs body weight
Try to get the calf to suckle 3 Litres within the first few hours – as sucking stimulates an oesophageal groove within the calfs body, allowing the milk to go into the abomasum chamber of the stomach where there is better absorption of nutrients. However, if this can't be achieved, stomach tube the calf
Freeze colostrum within few hours after first milking and if using at a later date thaw slowly at approximately 55°
Do not feed waste milk to calves as can lead to a higher bacteria load on the calf – which can contribute to diseases
Test colostrum quality by using either a refractometer or colostrum meter – looking for a reading of 50 grams/litre IgG
When looking at milk replacers you should be looking out for the following points:
Aim for a Crude Protein content of at least 23%, predominately milk derived proteins to help stimulate growth and muscle development
Oil level typically between 18 ‐20%
Fibre less than 0.2%
Ash less than 8%
A proportion of skin content
Pre and probiotics
Concentrate feeding to the calf even from a young age is of major importance. Concentrates, rather than hay / straw are what gets the rumen development (main stomach of cattle) to occur within the calf's stomach – due to its starchy element. With this in mind concentrates should be offered as early as 3‐4 days from birth.
Quick tips on concentrate feeding are:
Feed little and often i.e. 100 ‐200 grams per calf in the first week or two
Calf starter should have palatable ingredients – molasses, flaked maize and rolled barley
Crude protein is high i.e. 18% and derived from high-quality protein (soya bean meal/full-fat soya)
Every kilogram of concentrate consumed requires four litres of water
18% high energy/protein nut – suitable feeding from 3 days of age until 6 mths of age
Contains optimal level of fibre to enhance rumen function – beet pulp/soya hulls
Formulated using energy sources such as maize, wheat & barley
Protein derived from soya bean, maize distillers & rapeseed meal
Contains Live Yeast to; aid the development of the rumen; stabilize rumen conditions; enhance nutrient absorption and encourage intake
Includes special flavours to enhance palatability & encourage intake
Contains whey to ease the transition at weaning from milk to concentrate
Contains hi spec calf minerals & vitamin package (*see page 9) – High Phosphorus
Contains full fat soya to maximise the available protein & energy density of the nut
Can be fed indoors along with straw or silage and similarly, at grass throughout the summer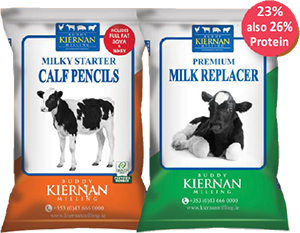 Suitable for feeding to calves from 7 – 10 days of age
Slow release buffer (live yeast) to ensure the calf's rumen develops optimally. Hence, healthier rumen conditions, better nutrient absorption, intake and growth
Feed ad lib until calves are consuming 1.5 kg/hd/day
Contains hi spec calf minerals & vitamin package (*see page 9) – High Phosphorus
Also suitable for fast growing pedigree / show cattle ‐ no fillers included
Contains all you would expect in a feed designed to be fed to show cattle
Contains cooked maize to stimulate rumen digestion and nutrient absorption
Protein predominately consisting of soya bean meal to encourage frame and muscle development from an early age
Includes an oil based molasses (molashine) – to stimulate intake
Contains full fat soya to maximise the available protein and energy density of the blend
CBG8220CALF TO BEEF CRUNCH
18% palatable quality calf crunch suitable for feeding from 4‐7 days of age up to 6 ‐8 months
Highly digestible and palatable with a high cereal component of cooked cereals
Perfect ration to stimulate intake from an early age, hence, stimulate rumen development in the new born calf
Premium calf minerals and vitamins to help promote growth
Includes an oil based molasses (molashine) to enhance palatability
Suitable for feeding to young cattle as a supplement to grass silage and at grass
Also suitable for pedigree cattle
*Hi Spec Calf Mineral & Vitamin Package contains the perfect blend of live yeast and essential Minerals & Vitamins designed to optimise thrive in young, growing cattle. High levels of Copper, Cobalt and Selenium combined with a unique blend of Vitamins E, B12 & D3 are standard in this mineral pack.